2005/04/24 12:45:54.414 GMT+1000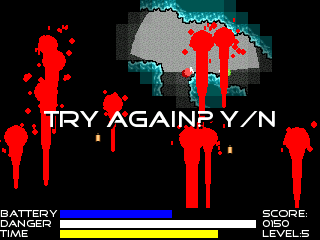 Enhanced Edition
During the week after the contest I fixed a multitude of small bugs, and added a multitude of small enhancements.
Please try it out: pygame | windows.
added 3 new levels -- varying from easy to hard, 8 levels total now
added 3 different dying effects -- see screenshot
added level status in corner
improved sound effects
optimized painting
fixed a multitude of small bugs
Post Mortem
The Good
Prep: I made sure all my tools were installed and working before the contest
Planning: gave me considrable direction and a better starting idea
Tools: pygame, pgu (level and tile editors), ModPlug, n-track, Audacity
Windows: knowing how to use py2exe
Testing: Having lots of it. Game play came out good, and no critical bugs were in the contest edition.
Time: Managing time from most important features to least
The Bad
Tools: wish I had 3-D tool knowledge to do my lighting effects and hi-res graphics.
Testing and Time: wish I had more time to do more to weed out the last few non-critical bugs, but you can only do so much in 48 hours.
I enjoyed this year's contest even more than last years. I am really enjoying trying out everyone's games, and I'm learning a lot on what I can do to improve my game making skills.
For a longer version of this entry go here.
Add comment